Stability Software
Autoload Bulk
Autoload can be configured as the loading computer for ships carrying loose bulk cargoes. That expands the generic Autoload features adding the functionality specific to the bulk cargo load management.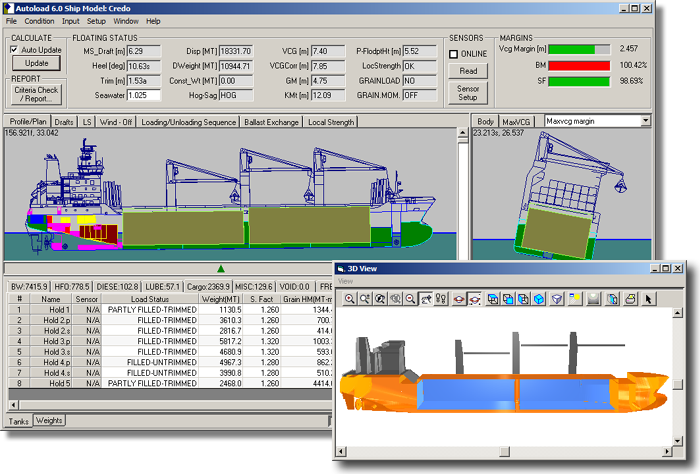 Possibility to combine both the tanker and the bulk carrier functionality in one application makes Autoload perfectly suitable as the loading computer software for OBO ships.
Cargo Holds

The Cargo tab presents holds in the tabular form similar to Tanks table, but with additional properties specific to bulk cargoes.
In the Cargo table in addition to the generic tank properties such as weight, volume, fill ratio, sp. gravity and coordinates of CG the user can enter and monitor parameters specific to bulk cargo:
stowage factor;
load status - filled, partly filled, trimmed, untrimmed
grain heeling moment.
Grain heeling moment can be enabled or disabled by the user at any time.
Bulk Cargo Planning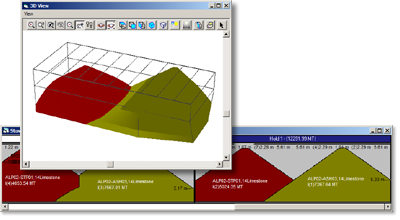 With an optional Bulk Cargo Planning module the user can simulate the entire process of loading loose bulk cargo.
The main features of the Bulk Planning module are:
calculations are based on 3D geometry of holds and cargo piles;
the shape of piles is formed taking in to account angle of repose of cargo and width of loader;
user can plan multi-stage and multi-port loading / unloading sequence with ballasting operations;
monitor cargo pile parameters such as quantities of cargo in piles, height of pile, free remaining height to the hatch cover, height of pile edges at bulkheads;
receive instant feedback on parameters of ships floating status, stability, local and overall strength;
produce detailed loading sequence report.
The module is an efficient aid in planning cargo operations on all types of bulk carriers: conventional gearless, geared, self-unloading ships with discharge through the bottom gates.
Grain Calculations
Autoload/Bulk performs calculations of grain stability in accordance with Ch.IV SOLAS 1974 & IMO Res.MSC 23(59).
Shifting moments of grain in holds are calculated based on the hold's load status: filled, partly filled, trimmed, untrimmed.
In addition to the intact stability criteria the stability of ship loaded with grain is monitored based on
the allowable upsetting moment for given loading condition and
direct calculations of heel angle and the residual area under the RA curve with grain shifted.
Local Strength
The user can monitor local strength against the allowable weights in holds when loading heavy cargo with low stowage factor or planning alternate load of holds. The allowable weights for every hold are dynamically updated based on the current drafts.
Draft Survey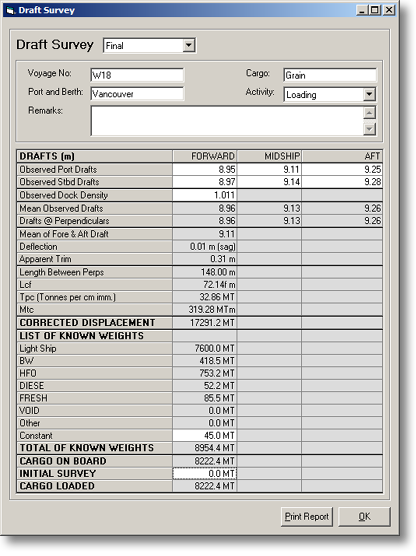 With the Draft Survey function the user can instantly and with great accuracy calculate the constant, quantity of cargo loaded or delivered, and produce signature-ready Draft Survey report in a commonly recognized format.
Reports
The variety of standard and custom reports is available in a common electronic format. That includes, but not limited to:
Floating Status report;
Loading Summary;
Stability reports (intact, damage, severe wind);
Grain Stability report;
Longitudinal Strength;
Loading Sequence with time estimate;
Draft Survey report.
Key Features
Load cargo by weight, volume, ratio with editable stowage factor;
Calculations of grain heeling moments based on full, partly full, trimmed, untrimmed status;
Cargo pile calculations based on angle of repose and holds geometry;
Draft Survey function with signature-ready report;
Entry of tank contents by weight, volume and sounding with automatic heel and trim corrections;
Loading and ballast exchange sequence;
Autoballast function to bring the ship on desired drafts;
Intact stability calculations;
Grain stability assessment based on the allowable upsetting moment and direct calculations of heel and residual area;
Direct damage stability assessment;
Drafts at perpendiculars and draft marks;
Editable density of harbor water for fresh water allowance;
Calculations of predicted and observed deflection;
Longitudinal strength calculations including bulkhead correction;
Local strength limits dynamically calculated based on drafts;
Switch between Metric and Imperial measurement systems;
Connection to tank and draft sensors

Contact us for more information and to schedule a live demonstration of Autoload.