General Cargo Planning
SimpleStow GC Overview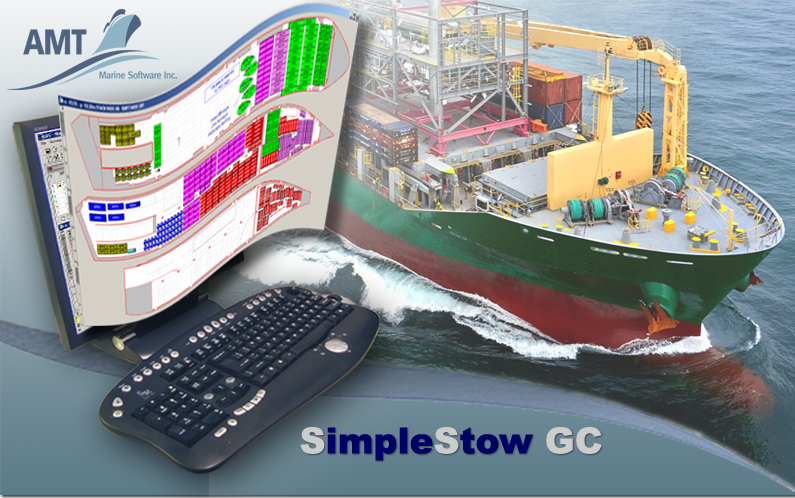 SimpleStow GC is an advanced Windows™-based software developed specifically for graphical stowage planning of general, break bulk and project cargo. "GC" in the name of the software stands for General Cargo.
The program is compact, graphical, intuitive, and easy to use but powerful full-featured general cargo planning software that provides all essential tools for effective stowage planning, reporting, documentation and electronic data interchange.
If you:
are looking for an economic alternative to a complex and expensive general cargo planning software system;
have limited access to ship's drawings and documentation;
work with ever changing fleet of multiple ships;
have limited time to order ship models from a software manufacturer and would rather make them yourself;
want an efficient ship planning and cargo data processing tool to be integrated in your in-house information system,
then give SimpleStow GC a try.
Download fully functional program now for a free one month test drive.
SimpleStow GC Highlights:
Integrated System
SimpleStow GC is an integrated software system that, in addition to the cargo planning program itself, includes two essential components:
Ship ModelEditor – a graphical utility program where a user can easily and quickly create his own ship models; and
Web-based ever-expanding collection of the readily available ship models created and shared by all users of the system. The models can be instantly downloaded by the registered users of the system without any additional charges and fees.
Read more about how the system works …
Graphical Interface
SimpleStow GC utilizes the latest technologies in the graphical presentation of general cargo stowage plans and cargo data on the computer screen and in the printed reports.
Learn more about graphical user interface …
Voyage Scenario
SimpleStow GC enables the user to plan the entire voyage, providing feedback on possible stowage conflicts that may occur not only in the currently planned port, but in ports up and down the voyage.
Learn more about Port Rotation in SimpleStow …
Cargo List
Ship planning starts from analysis of Cargo or Booking List. SimpleStow GC provides well-developed set of functions to import, sort, filter, group, search and process cargo data.
Stowage Methods
The easy to use drag-and-drop stowage planning method in SimpleStow GC is facilitated by the set of customizable stowage rules and automatic checks of stowage conflicts and limitations.
Read more about stowage methods, rules and conflict checks …
Electronic Data Interchange
SimpleStow GC provides efficient tools to import cargo lists and set up electronic data exchange with third party software and external databases in custom user-defined structured text formats.
Program Customization
With the aid of program controls, the user himself can easily customize the interface, contents and appearance of cargo information and Electronic Data Interchange formats to his needs and preferences.
Learn more about custom settings in SimpleStow GC …
Ship Models
The users of SimpleStow GC can download ship models from the AMT web site without limitations, or create their own models and share them with their colleagues.
Program Licensing
The software is licensed per workstation on an annual subscription basis. The software license grants unlimited number of ship models, unrestricted access and use of the web-based ship models collection and supporting services provided by AMT.
Read more about program licensing and costs ...