General Cargo Planning
User Interface
SimpleStow GC provides easy to use graphical environment for stowage planning of general, project, and break bulk cargo.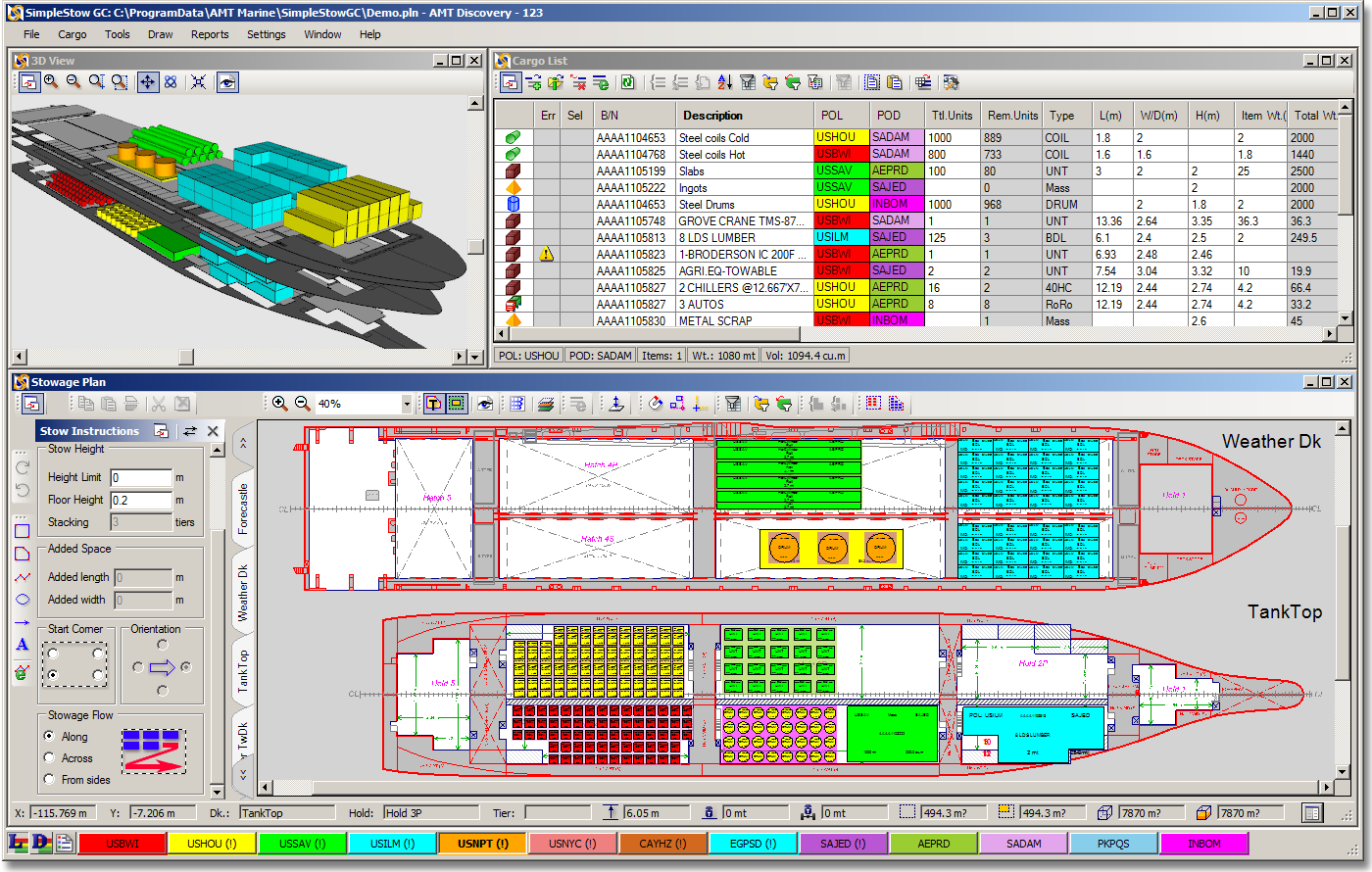 The user interface features:
interactive graphical Stowage Plan,
customizable Cargo List,
Stow Instructions panel,
isometric 3D view,
Port Rotation bar.
It is very flexible and easily customizable to meet your specific requirements and preferences.
In addition to the advanced drag-and-drop cargo stowage functions with the user-defined stowage instructions, the program interface provides intuitive commands presented in the form of context menus and tool buttons. The Snap, Align and Ortho functions facilitate arranging cargo in holds and on decks in proper order.
The program constantly monitors for possible stowage problems and conflicts and provides visual alarms if any is detected.
With one button click you can instantly change color coding of cargo in the stowage plan and the 3D view by the load or discharge port. You have an option to show or hide additional space reserved for lashing.
For different categories of cargo, you can setup individual templates for cargo quantities and characteristics shown in the plan.
There are multiple layers of graphical information that you can show or hide in the plan. An extensive set of graphical tools helps to enhance the plan with custom graphical elements such as lines, rectangular or polygon areas, arrows and text comments. All these elements can be formatted and customized.
Presentation of data in the Cargo List is enhanced by the icons depicting cargo category and type. Ports of load and discharge are highlighted in designated colors for easy visual identification.
Additional service windows and forms can be opened on the user's request to perform various operations.
The program is very intuitive and well documented. The detailed, to the point, help is accessible from all SimpleStow GC windows and dialogs.